The Rolling Thunder®, Inc. POW/MIA Chair of Honor Program is intended to support Rolling Thunder's main mission by bringing daily reminders of the POW/MIA issue to cities and towns big and small across the nation. A POW/MIA chair in any location is to remain perpetually empty to help people remember that even though our soldiers are not here, there is still a space for them.
POW/MIA Chairs of Honor can be found in public spaces ranging from professional sports stadiums to small town city halls, Schools to Business Lobbies and everywhere in between. Rolling Thunder®, Inc. chapters nationwide also have portable POW/MIA Chairs of Honor for their individual chapter activities, like VA facility visits and local veterans' events.
Chair Options
Rolling Thunder®, Inc. POW/MIA chairs presented by Hussey Seating Company are available in Fixed and Portable models as shown below. Chairs have lead-times from order to delivery, which run 2 – 4 weeks depending on product demand. Hussey Seating will donate the chair if you commit to creating a local PR event around the chair dedication and the POW/ MIA mission and then share the results with us. For more information and the necessary forms, email a request to [email protected].
Purchase Price Options through Rolling Thunder® Inc. CA-1:
Fixed Chair: $200 plus $140-$200 S&H
Portable Chair: $100 plus $35 S&H
Download brochure HERE.
Download more info about the Donation Program HERE.
For Questions and Ordering, please e-mail [email protected]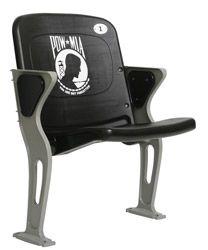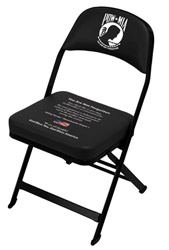 Stadium chair that bolts to concrete, aluminum, and wood decks or floors.
Can be used indoors or outside, can be left permanently outside
Shown with optional stanchion infill panels
Portable chair that folds flat for transport
Can be used indoors or outside, cannot be left permanently outside
Features Rolling Thunder message on the seat, saving the cost of a memorial plaque
Seat text customizable for Rolling Thunder chapter and town/venue or dedication date
DONATE a chair to your favorite school, business or for your own home.
IMPORTANT: These chairs are sacred ground and are not to be sat in or stacked upon. They are to be displayed in a visible area that can be appreciated by all and given the honor and respect in which they are meant to represent, The Missing Soldier.
Not unlike the American Revolution, it all started in Boston!
Joe D'Entremont, a locksmith from Boston and a member of Rolling Thunder, is very committed to the POW/MIA issue and Rolling Thunder®, Inc.'s mission. After seeing a seat purposely left empty in Bristol, TN for American service members who were POW/MIA, Joe was determined that Massachusetts would be the first state in the nation to have POW/MIA chairs in all their professional sports venues.
Joe's determination and persistence opened the doors for him at Gillette Stadium, home to over 68,000 Hussey seats. Joe got introduced to us through Robert Kraft, and Joe asked us if we would donate a black Fusion seat. That first seat was dedicated on Veteran's Day of 2012 – Gillette was the first professional sports stadium in the nation with a POW/MIA Chair of Honor!
Joe's next target was TD Garden, and once he got their agreement to dedicate a seat, he reached out to Hussey again. The night of the dedication Joe joined two Hussey team members, one who he had met at the Gillette dedication, to kick around ideas about his vision of POW/MIA chairs in venues across the nation.
That one meeting was the genesis of the Hussey Seating and Rolling Thunder partnership. Passionate as ever about his cause, Joe laid out his group's efforts and what they wanted to achieve. Together they brainstormed on how Hussey could help, and we proposed a collaboration designed to have Hussey donate chairs while maximizing PR exposure for the cause.
As Hussey worked on developing their side of the program, they discovered Joe had been doing chairs for city and town halls, restaurants and even the USS Constitution. We came up with the idea of adding custom printed Clarin portable chairs to the program. They would be ideal for these other placement locations, and for chapters to use in their local activities.
Blown away by the possibilities of how much having a portable option could further the program, Joe quickly filled in Rolling Thunder National on the new development. National asked Joe to present the program to all the Rolling Thunder chapters at their annual conference in Washington, D.C. on November 1st and 2nd, 2013. Hussey was invited to participate, so we quickly made up Fusion and Clarin samples and got to work on other support materials for the presentation.
Along the way, Joe got a call from a Military Liaison officer at the University of Toledo in Ohio. Lt. Ghanbari wanted a POW/MIA chair for their football stadium, to be dedicated at their game vs. Navy on October 19. Hussey picked up the ball and worked with the officer, donating the chair in return for participation in the PR program. The resulting coverage was amazing: ESPN broadcast the game and covered the ceremony, local TV stations did interviews, and social media pickup was widespread. Not bad for the first collegiate POW/MIA chair in the nation! You can read more about it on our blog in the "Pausing to Remember our True Heroes" post.
Both Hussey Seating and Lt. Ghanbari from the University of Toledo joined Joe at Rolling Thunder's National conference to present the POW/MIA chair program. The response was overwhelming – there was not even any standing room left in the first session! We were very honored and humbled to have veterans thanking us our work on the program.
Back here in North Berwick, we followed up with our own kickoff event on Veteran's Day, 2013. Joe D. and Mass Chapter 1 joined us, as well Rolling Thunder Maine and New Hampshire chapters, our own veterans, many local veterans and even U.S. Senator Angus S. King, Jr. We dedicated a specially crafted Quattro POW/MIA chair in our showroom during the event, with the final tribute laid by a Maine WWII veteran and POW.